Goodbye Family Minivan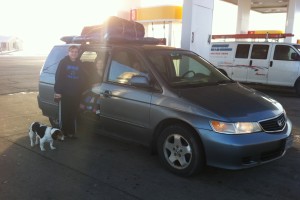 I don't care much about cars. I'm definitely not anything at all what you would call a 'car guy'. My requirements for a car, as Steve Martin so succinctly put it, "Four fucking wheels and a seat!". But we just sold our car, and the truth is, I'm feeling pretty sentimental about it.
We purchased our 2001 Honda Odyssey used way back when it had about 20,000 miles on it, and we just sold it with 208,074 miles. And among those miles in between, we raised our family it it. Local miles to school and soccer games, family trips to the Outer Banks, and home to Illinois. It drove us through big cities, and it delivered us to campgrounds. Our kids learned to drive it, and it sat loyally in the driveway every winter, posing for the obligatory buried in snow photos without complaint.
But as we empty our nest, and downsize our belongings, we no longer need an old minivan. We considered many options; shooting it (don't own a gun), living in it (down by the river), abandoning it (probably traceable DNA to be found on lost french fries and cheerios on the floor), or selling it. I'm very happy that we found a buyer, a family with five kids, and dad's a mechanic. They live close buy, so it's gonna be kinda weird seeing our minivan on the road sometimes. But it will be nice to know, it's found a new family to serve.
Here's a few photos from over the years: